Hour Of Penance - Sedition
Label: Prosthetic Records
Reviewer: Anas Disi - 2012-08-08
Band profile | Official website | Order online
| | | | | |
| --- | --- | --- | --- | --- |
| Composition | Musicianship | Production | Artwork | Originality |
| 8.5/10 | 8.5/10 | 8/10 | 8/10 | 8/10 |
Highlights: Enlightened Submission, Sedition Through Scorn
Blasting, thunderous, energizing. This is all what's brutal death metal these days is about and with the right riffs and the interesting concepts, it's a good album you've got in your hands. Not much to wander about, I guess, but Sedition proves that a genre done right can never get old. Some might not praise the traditionalism of the album or its straightforward, unchanging sound, but then again, fans of the genre will really appreciate this work.
The intro of the album sounds atmospheric, carries you into the next track, "Enlightened Submission", which I may rank as one of the best death metal tracks I've heard this year. The next tracks never fail to satisfy; all are equipped with hands down some of the good and creative riffs one can ever imagine in a brute-death album. "Ascension" seems to take the slower side of things and still blasts as hell, while "Deprave to Redeem" and "Blind Obedience" prove to be one of the best death metal album closers of this year. (unlike, let's say, "Apparition" and the like)
This is recommended for those who like old-school or brutal death. Not much progression, playing with riffs or creativity found a lot here, but the great riffs and the blasting songs should give you a time to die for. Personally, I replayed the album twice as soon as I got it.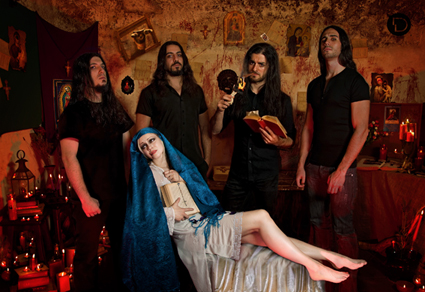 Simone Piras - Drums
Silvano Leone - Bass
Paolo Pieri - Vocals / Guitars
Giulio Moschini - Guitars
Highlights
Supported events
Join Our Newsletter