Fistful of Metal - Vol. 5
Label: Various
Reviewer: Battlepig Claudia - 2014-07-19
Band profile | Official website | Order online
| | | | | |
| --- | --- | --- | --- | --- |
| Composition | Musicianship | Production | Artwork | Originality |
| 8.5/10 | 8.5/10 | 8.5/10 | 8.5/10 | 9/10 |
Highlights:
Fistful of Metal Vol. 5
Bands: Puteraeon, Hjel, Dauden I Morke, Noctem
PUTERAEON - The Crawling Chaos
By: Battlepig Claudia
The Swedes PUTERAEON are heart from again. Already since 2009 musically on the road they released in April 2014 their latest trick called "The Crawling Chaos" via Cyclone Empire.

The gents celebrate the Death Metal. The listener gets here what he demands Old School-like. No more, no less. Right in the face without any technical folderol or experiments. Classical Death Metal riffs ally with a powerful drumming to a deadly musical mixture which packs a punch. The forceful bass-lines reinforce darkness and also aggressiveness of "The Crawling Chaos". The listener receives the opportunity to get only a little bit time to breathe air at least by melodic riffs and samples inserted now and then. Not that PUTERAEON sound soft. The all in all ten songs doesn't loose at no time its bite and hardness. The dark, emphatic growls of vocalist and guitarist Jonas Lindblood do one last thing to manifest hardness and darkness. Very professional recorded I can only recommend PUTERAEON to each Death Metal fan!!!!
Rating: 8'7 / 10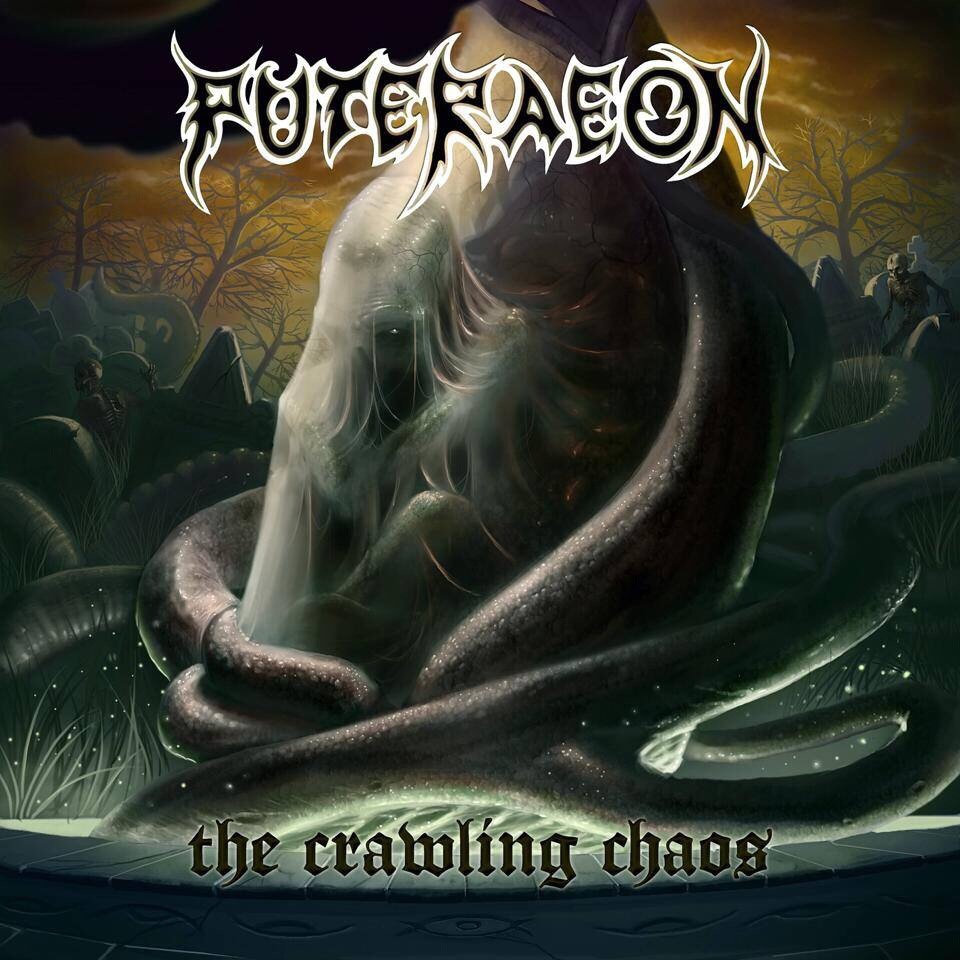 HJEL - Gedanken Aus Dem Grab (EP)
By: Battlepig Claudia
HJEL are from Germany. Founded in the year 2013, the duo released late last year their five-song cd "Gedanken Aus dem Grab" via Senseless Life Records.

You can hear here Black Metal. Atmospheric kept songs which are nevertheless dark and cold develop. The slow, partially halting insertions spread out a strange, morbid mood which is doleful and emotionally charged. Depression and darkness wrapped in notes. Emotions of hopelessness and sorrow which seem to be insourmountable and are unending. Excursions in Rock realms show versatility and eagerness to experiment of HJEL. They nevertheless bring no light nor hope. The emotional vocals of vocalist Munnyet reinforce loneliness and intensity of "Gedanken Aus Dem Grab". The lyrics are all written in German language. They deal with death and perfectly round off the pitch-black atmosphere. What remains is a not easy to consume album which is worth to be listened to and which definitely whets your appetite!!!!
Rating: 8,6 / 10
DAUDEN I MORKE - Cold Miasmic Domain
By: Battlepig Claudia
DAUDEN I MORKE are heard from again. Their by now third full-length trick which is called "Cold Miasmic Domain" was released on the beginning of the year via Moonskull Recordings.

The gents also present here a piece of extraordinaire Black Metal. Beautiful melodies are merged with dark, depressive Black Metal tones to a very special musical mixture. It is of morbid, cold beauty which casts a spell over the listener. "Cold Miasmic Domain" never gets boring or too melodic by multi-variant riffs and a powerful drumming. Worlds of hate, mourning and darkness gape in the listeners' mind's eye. Partially played more aggressive than at the forerunner "Nephilim" DAUDEN I MORKE however never lose their independent sound. An additional advantage is, that four vocalists have here a finger in the pie (Plus guest vocalist Aisling on "Drowned"). Because of this the production receives additional variety and dynamics. The all in all ten songs move in the mid tempo area. Technically adept and with a lot of emotions recorded is "Cold Miasmic Domain" an absolutely must-buy!!!!
Rating: 8,8 / 10
Noctem - Exilium
By: Battlepig Claudia
NOCTEM are heard from again. This year the Spaniards released their by now third cd "Exilium" via Art Gates Records.

It initially stars here very bombastic, almost epic with the acoustic intro "Enuma Elish". More melodic than the forerunner "Oblivion" it gets after that straight to the finishing line: Technical Black Metal with several Death Metal elements is now the topic. Bizarre worlds of ice and hate construct. Pitch-black and without hope for escape NOCTEM crush everything which obstructs on their way. With many variations played riffs give the production variety and simultaneously intensity. The little short of unhuman fast doubleblast drumming ensures the neccessary quickness which follow NOCTEM through on until the end. Short melodic insertions prevent monotony and repetition. These go partially into the bombast area and are enriched with chorale sounds which sound strange and beutiful at the same time. Together with the distinctive growls of vocalist Beleth this results in a pretty extreme, black musical mixture which has plenty of punch. Very professional recorded you notice that NOCTEM know what they want and that they are able to implement this musically. An all around diversified modern Black Metal album which you should have listened to!!!!
Rating: 8,6 / 10
Highlights
Supported events
Join Our Newsletter