MANOWAR - Warriors Of The World 10th Anniversary Reissue Out This Month
2013-06-08
Legendary metallers Manowar have recently announced the release of the Warriors Of The World 10th anniversary remastered edition CD which will be in stores in Europe on June 28th, 2013. This edition is fully remastered and with a different bonus track.


This Warriors Of The World edition contains all 11 tracks from the original release, entirely remastered, plus a live recording of "House Of Death", recorded during the Battle Hymns MMXI Tour at O2 Academy in Birmingham, England. It is already available as a digital album on iTunes.

It was mixed at Galaxy Studios by world-renowned mixing engineer Ronald Prent, and remastered at Manowar's own studios Hell and Haus Wahnfried by Joey DeMaio with Manowar's in-house audio engineer Dirk Kloiber.


Joey DeMaio says: "It was an amazing experience, re-visiting this production. There are so many great memories associated with this album, from the recording to the post-production to the many unique live performances. All these experiences go into your work, when you sit in the studio and create a new experience for your fans."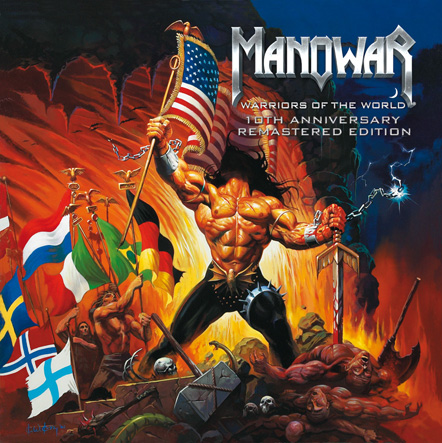 Tracklist:

01. Call To Arms
02. The Fight For Freedom
03. Nessun Dorma
04. Valhalla
05. Swords In The Wind
06. An American Trilogy
07. The March
08. Warriors Of The World United
09. Hand Of Doom
10. House Of Death
11. Fight Until We Die
12. House Of Death (Recorded live at O2 Academy in Birmingham, England, 03/27/2011) [bonus track]
Source: Metalstorm.
Highlights
Supported events
Join Our Newsletter